Busing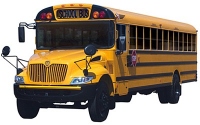 Busing is provided for families that live in the Peshtigo and Coleman school districts. Children can start riding the bus at age 4.
Kobussen Busing provides busing for the Peshtigo School District (920)834-3467.

Camps Busing provides busing for the Coleman School District (920)897-2566.

Oconto and Lena do not provide busing to St. John, however, they do reimburse families for some of the expense they encur by taking their children to school on their own.